Phew it has been a crazy busy week. I currently have to work full time at school to cover a colleague who broke his leg, ten pin bowling of all things!! It has not come easy; going from being a laid back part time working mom to full time crazy working mom mode! I really admire women that are able to keep a home and work full time, I wish I could do better but I guess I am not super women after all lol! I will be so glad when I get to the summer holidays in six weeks, it will be such a relief to be able to slow down.
It hasn't been all work, work, work this week though I got two really exciting bits of news that I cannot wait to share with you all but I have to keep it under wraps for just a few more days. Check back at the weekend though because I will be breaking the news soon.
I have also had time for scrapping and I have two new super cute kits by Melissa Daniel Designs to share with you. Keep reading because I am going to tell you how to get one of these kits for free and I have a freebie for you as well.
My first layout uses Melissa's Bright Sunshiny Mini Kit which is part of the plum pickins for June over at
Polka Dot Plum
.
Here is the layout I scrapped with it
Keep reading to the end of this post for a sunshiny wordart freebie.
The next kit that Melissa has released this week is What John Saw, this is a fantastic kit for scrapping Pocahontas themed pictures which is exactly what I did. Although it would work equally well for camping layouts.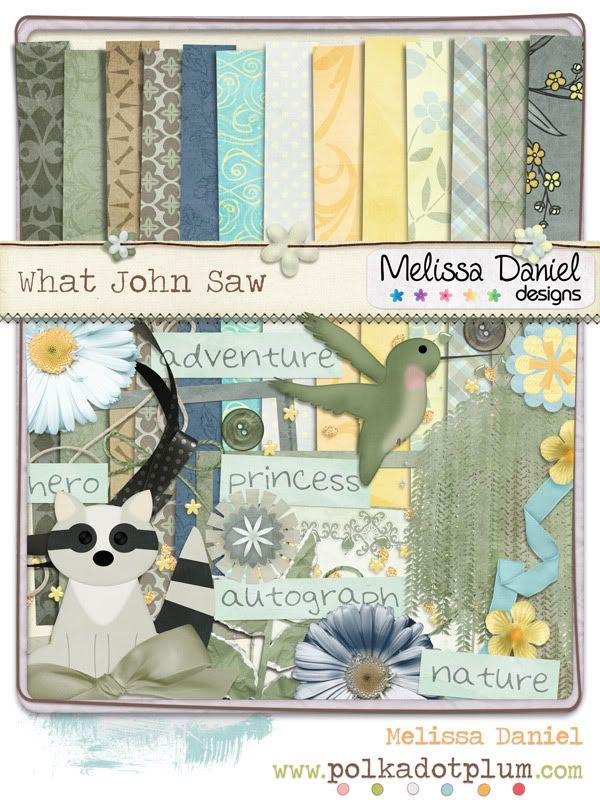 Here is what I created with it
This kit is not yet released in any store. You can get it in advance of its release for free! Just head over to
Mousescrappers
for this weeks
weekly challenge
hosted by Aussiegirl, scrap a layout according to the rules given and you will receive this as your participation prize. How generous is that!
Finally! Here is the freebie I promised you.
Download here