When I first starting digital Scrapping back in 2009 it was to create a vacation album of our Disney Trip. Searching the net I discovered
Mousescrappers
and not long after that
Britt-ish Designs
. Britt quickly became my favourite go to designer. Her kits always inspired me and they were just perfect for the magical photos I was scrapping. I got to meet Britt in Disney World back in 2010 and she was just the sweetest person. I have been such a huge fan of hers since the beginning and I dreamed of being on Britt's CT. I mean what an amazing job getting to be a Britt Girl and work with her awesome designs. I kept waiting for a CT call and the chance to apply but it never came. I mean seriously she has such an amazing team why would she need to hold a call!
A few weeks ago a conversation about going for what you want rather than waiting for it to come to you inspired me to email Britt. I figured what have I got to lose by asking if she had any CT spaces or maybe even a wait list. Well guess what she emailed me right back and said that a space had just opened up on her team and that my timing was perfect and she invited me to join her CT!! Talk about excited, I seriously thought I must be dreaming. I am so proud to be a Britt Girl; dreams really do come true!
So without further ado I am excited to show the first kit I got to work with as part of Britt's CT.
Winter Sparkle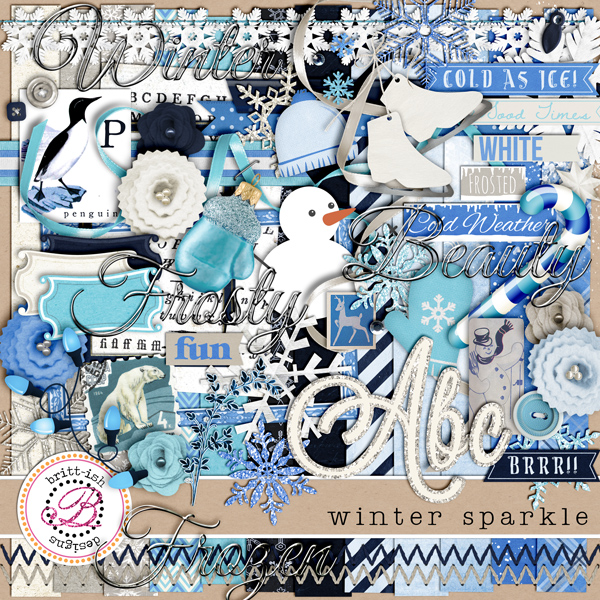 It's just so pretty isn't it? As soon as I saw it I was inspired it made me think of not only the obvious snowy day scenes but the beautiful blue sparkly lights all over Cinderella's Castle and Blizzard Beach at Disney World or the Wild Arctic area in Sea World with the polar bears and the penguins. Britt even made the cutest Mickey Snowflakes for all your Disney inspired pages too so don't forget to snag those over on her
blog
. I had so many ideas rushing around my head that I actually scrapped four pages. As always I had the most wonderful templates from little Green Frog Designs to help make my layouts awesome too.
This layout uses the Little Green Frog Designs December Blog freebie snag it
here
Isn't this kit just simply stunning! You should check out the other CT pages on
Britt's blog
they completely rocked this kit!
Just a hint but you should check back here on Sunday to find a little pre christmas gift here on my blog!